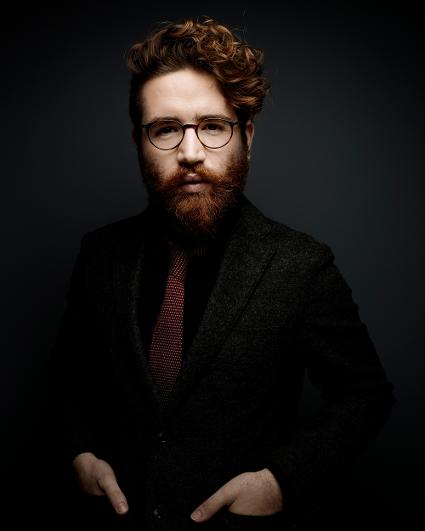 Unfolding a music-language filled with subtle nuances while constantly seeking to reconcile fire, lyricism and sophisticated form, Théo Ceccaldi is definitely one of the great revelations of the contemporary jazz scene in France.
Théo Ceccaldi seriously started studying classical music at a tender age and received First Prize for Violin, Notation and Chamber Music in 2004. But he was always drawn to the freedom of jazz, and in 2010 he genuinely found his own voice when he founded an original trio — with his brother Valentin on cello and Guillaume Aknine on guitar — which established the link between the western chamber-music tradition and free improvisation. The Théo Ceccaldi Trio won the Tremplin Orléans' Jazz in 2011, and they have since confirmed what everyone thought was good about them, releasing two albums in succession for the Ayler Records label and then taking the laurels of the 2014 "Jazz Migration" programme organized by AFIJMA-AJC.
A founding member of the young collective from Orleans known as Tricollectif, violinist Théo Ceccaldi has been active in a series of formations including the Toons group led by his brother Valentin, the chamber quartet La Scala and Loving Suite pour Birdy So led by pianist Roberto Negro (with Elise Caron). Recognized by his peers, he recently joined the new French National Jazz Orchestra, the IXI string-quartet co-led by Régis Huby and Guillaume Roy, which enjoys a reputation for improvised music, Médéric Collignon's project "A la recherche du roi frippé", which revisits the music of Robert Fripp/King Crimson, and also the Franco-German octet T.E.E. Ensemble of pianist Hans Lüdemann, and the new Tentet of Joëlle Léandre.
Particularly drawn by all transversal art forms, the young violinist has also ventured into theatre and dance, notably in collaborations with the "Compagnie Les Veilleurs" (based on the text Contre les Bêtes by Jacques Rebotier), and choreographer Josef Nadj.
Moreover, he composes and arranges for the Grand Orchestre du Tricot, a repertoire of songs of Lucienne Boyer, lovely interpreter of the French Twenties, and plays with the new Sylvain Darrifourcq's trio, In Love With alongside his brother Valentin. His latest creation, Petite Moutarde, whose record was released in September 2015 on ONJazz records and was awarded the JazzMagazine CHOC, Citizen Jazz ELU and JazzNews INDISPENSABLE, revisits the Dadaist film Entr'Acte of René Clair, around the absurd and poetic power of his film, which caused a scandal in 1924. He is currently working on several new works, including FREAKS project in a much more Punk and electric energy, the duo he formed with the pianist Roberto Negro around a repertoire of rearranged singularly Ballroom Dancing and the Quartet Franco-German QÖÖLP with Christian Lillinger and Ronny Graupe, which will be created to mark the tenth anniversary of the Festival Jazzdor Berlin, as well as a composition control for a set unprecedented FrancoItalian, in the Una Terra di Striscia Feconda Festival in Parco della Musica, Rome.
He is also ready with pleasure to play impromptu meetings and invitations, especially with Louis Sclavis, Vincent Courtois, Bruno Chevillon, Eve Risser, Akosh.S, Michele Rabbia or Elise Dabrowski.
« Theo Ceccaldi plays violin with a mastery that renews what was believed able instrument »
Michel Contat - Télérama