Carlos "Zíngaro" - Live at Mosteiro de Santa Clara a Velha
Carlos "Zíngaro" - violin
01 - Crushing Wheels
02 - Portions of Life
03 - Twisted Chords
04 - Voids of Night
05 - Scroll of Fate
Recorded live by Marcelo dos Reis on 25th May 2012 at Mosteiro de Santa Clara a Velha in Coimbra during the 10th edition of Jazz ao Centro Festival.
Mixed and Mastered by Carlos "Zíngaro".
Executive Production by Cipsela Records.
Design and Artwork by Kátia Sá.
All music by Carlos "Zíngaro".
Cipsela 2015.
[BUY NOW]
Limited edition of 300 copies.
[REVIEWS]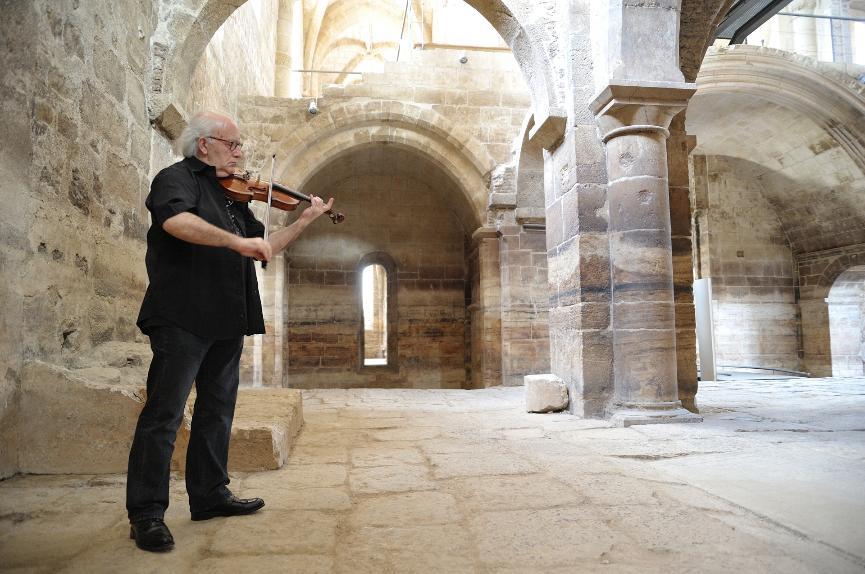 From 1926 to 1974, Portugal lived through an era of extreme conservatism and repression under the authoritarian rule of António Oliveira Salazar. The aggressive enforcement of Salazar's fascist ideologies during that period made creative artistic expression a crime. There was no place in Salazar's regime for free thinking and the open exchange of ideas. Everything associated with creative artistic expression and free thinking was scrutinized and strictly controlled by the PIDE (International and State Defense Police), who were continually searching for evidence of even the tiniest detail that could be interpreted as contrary to the authoritarian politics of Estado Novo/Second Republic.
In the late fifties and into the sixties, a generation of artists emerged who would directly challenge the anti-democratic Portuguese government through their music, using a personal language and lyrics that addressed the political and social injustices taking place. José Afonso, Adriano Correia Oliveira, Fausto Bordalo Dias, and others made music that encouraged free thinking and creative expression, in spite of the government's efforts to silence their voices. Meanwhile, some forward-thinking musicians and other artists were finding creative expression by combining elements of various genres to come up with something entirely new.
At the forefront of this wave of innovation was Carlos Alves ("Zíngaro"). His group, Plexus, was unique at the time in Portugal in its musical approach that successfully combined contemporary "classical" music, improvisation, and rock, documented by RCA-Victor in 1968. In addition to developing a distinctly Portuguese style of psychedelic rock, he was pivotal, along with Jorge Lima Barretto, in bringing free improvisation to Portugal. During this period, he worked prolifically as a sideman and studio musician, contributing to many different records across multiple genres. His involvement with the world of creative music grew so that soon, it became impossible to think about Portuguese music without thinking of "Zingaro".
What links the past to the present moment? A great deal, it turns out. Portugal is now living through another kind of challenge – our financial crisis. Is that crisis real? Or are we just toys in the hands of the FMI and Troika? We don't know. What we do know for sure is that at least we can express ourselves creatively and freely, and we will not allow anyone to that take that from us. That's why Carlos "Zingaro" is here. He shows us what creative freedom is all about, expressing himself like no one else can. What he has to tell us here is very special, and we're so happy to be able to present it to you.
Cipsela 2015