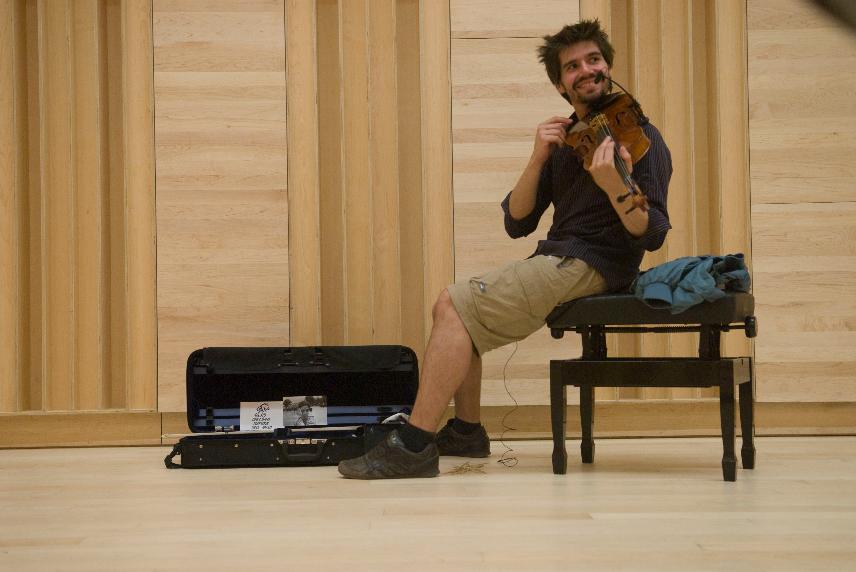 photo by Hélio Gomes
Born in Coimbra, Portugal, in 1983.
Classically trained, he studied viola in Conservatory of Music of Coimbra, under the guidance of João Ventura. After completing his studies in Civil Engineering, he moved to Lisbon where he discovered the creative and improvised music bustling local scene. There, he started to develop a set of extensive techniques that he mixes with classical ones, in a very physical approach to his instrument. Active in miscellaneous ensembles, his personal projects include: "Open Field string trio", with Marcelo dos Reis (guitar) and José Miguel Pereira (double-bass), "earnear", with Rodrigo Pinheiro (piano) and Miguel Mira (cello), João Camões & Kátia Sá, a duo with visual artist Kátia Sá and Nuova Camerata, with Carlos "Zíngaro" (violin), Ulrich Mitzlaff (cello), Miguel Leiria Pereira (double-bass) and Pedro Carneiro (marimba). Lately, together with his beloved wife, Joana Gomes, he started to compose and interpret music for theatre plays.
In addition to his regular projects he has also worked, in concert or workshop context, alongside some generous artists that helped him to continuously wonder, such as Bertrand Denzler, Bruno Parrinha, Burton Greene, Elliott Sharp, Ernesto Rodrigues, Evan Parker, Frédéric Blondy, Jean-Marc Foussat, João Apolinário, João Lucas, João Parrinha, João Paulo Esteves da Silva, João Viegas, Manuel Ara, Miguel Martins and Samuel Barsegian.