Joe McPhee - Flowers
Joe McPhee - alto saxophone
1 - Eight Street and Avenue C (For Alton Pickens)
2 - Old Eyes (For Ornette Coleman)
3 - Knox (For Niklaus Troxler)
4 - Flowers (For John Tchicai)
5 - The Whistler (For Mark Whitecage)
6 - Third Circle (For Anthony Braxton)
7 - The Night Bird's Call (For Julius Hemphill)
Recorded live by João Ferraz on 04th June 2009 at Museu Nacional Machado de Castro during the 7th edition of Jazz ao Centro Festival in Coimbra.
Mastered by Marcelo dos Reis.
Photos by Nuno Martins.
Special thanks to Niklaus Troxler, Nuno Martins and Cipsela Team.
Executive Production by Cipsela Records.
Design and Artwork by KSá.
All music by Joe Mcphee.
Cipsela 2016.
[BUY NOW]
Limited edition of 300 copies.
[REVIEWS]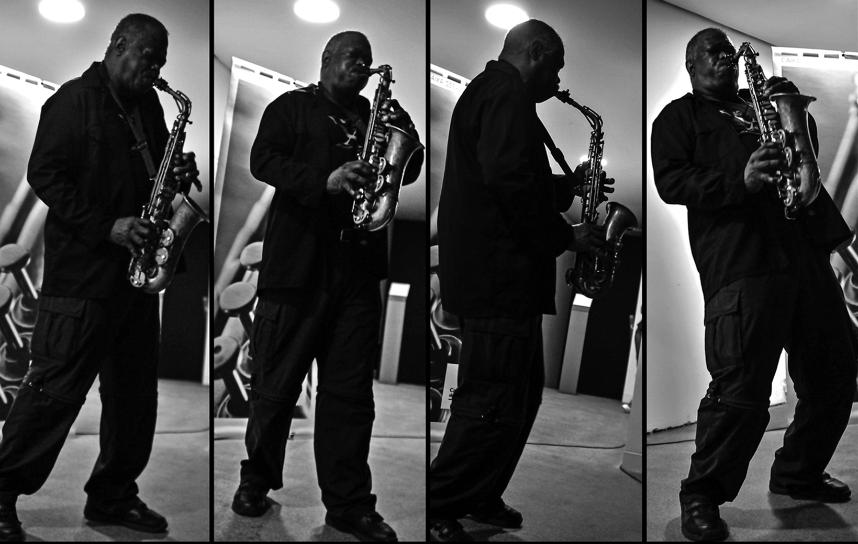 My first encounter with Joe McPhee took place way back in 1975. I had just come from

organizing my first Willisau festival (right in the middle of Switzerland), when Werner

Uehlinger, who went on to found the HatHut label, gave me two of Joe's records to listen to. I

was instantly blown away by his powerful, spontaneous music. So I immediately booked him

for a concert through Werner. On October 11 th , 1975, I presented the Joe McPhee Trio,

featuring South African drummer Makaya Ntshoko (who'd come to Europe in the late 60ies

with Dollar Brand aka Abdullah Ibrahim) and the American synthesizer pioneer John Snyder.

Back then Joe was still – or so it seemed to me – very strongly under the influence of Albert

Ayler, although he was offering a strong personal take on that music. Next year rolled around

and I just had to present him at the festival. Alongside his band mates Marc Levin on trumpet

and the aforementioned John Snyder, McPhee played a fresh and exciting brand of free music,

which was also well received by the audience – no mean feat considering that acts the caliber

of Art Ensemble of Chicago, the Sam Rivers Trio, the Mangelsdorff-John Surman Group, the

Michel Portal Unit and the Charles Mingus Group were playing at the festival too, among

others. Whereas Joe had still played tenor and soprano saxophone exclusively at his first

performance, this time he also played pocket trumpet. The very next year Joe dedicated one of

his compositions to me, specifically the piece "Knox", which appeared on the HatHut LP

"Tenor". My friends call me Knox, and Joe McPhee had long since become one of them too.

His warmth, his spontaneity and his devotion to music impressed me immensely from very

early on.



Whenever I ran into Joe again over the years, those meetings became encounters with a good

friend. Yes, each time we met I felt like we'd always known one another, that we always

understood one another right off the bat, the way good friends understand each other in the

end.



Over the years that followed, Joe continued to play now and again at Willisau or I ran into him

somewhere else in the world in a jazz club or at a festival. An especially joyous encounter took

place in 2009 in Coimbra, where I was exhibiting my jazz posters in the extraordinarily

beautiful "Museu Nacional Machado de Castro".

It was also the opening of a jazz festival

there. Joe played solo at my exhibition opening. To my great pleasure, he also played the tune

he'd dedicated to me, "Knox". I was extremely touched and couldn't have imagined a more

beautiful opening for my exhibition. Thanks, Joe!



Joe played for us at Willisau the last time in 2010, this time with his "Survival Unit III". And Joe

is himself a survivor: He has fought admirably throughout his life for what he believes and he

has always stayed true to himself. He plays his music honestly and personally. He's never

pandered to his audience by following current trends. Joe plays Joe and that's always been just

right the way it is. His strong personal voice was already present back in 1975 and it thrilled

me. His musical development has been huge and he deserves all the respect in the world for it.


His playing testifies to his big heart and the fact that his message is nothing other than that of

"love", love for this world and love for humankind.



I am honored that this solo CD from Joe McPhee that you hold in your hands now contains the

aforementioned composition "Knox", as I am equally honored by the fact that I have the

chance to write these lines to him. Thank you, Joe – for your incredible music and your

friendship!



Niklaus Troxler (founder of Jazz in Willisau, Switzerland)