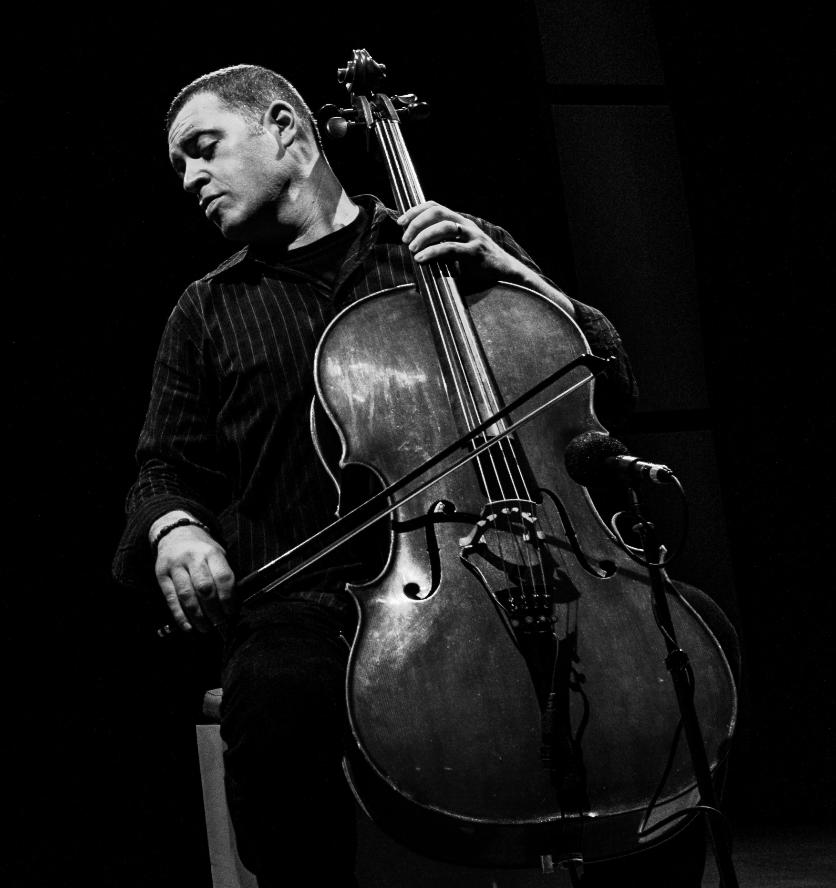 Daniel Levin is "one of the outstanding cellists working in the vanguard arena" (All About Jazz), "ridiculously fluent, virtually overflowing with ideas" (New York City Jazz Record) and "very much the man to watch." (Penguin Guide to Jazz). No matter what setting he plays in, cellist Daniel Levin occupies a musical space bordered by many kinds of music, but fully defined by none of them.

Elements of European classical music, American jazz, microtonal and new music, and European free improvisation all figure prominently in his unique sound. As critic John Sharpe observes in The New York City Jazz Record, "he invokes all manner of musics with prodigious skill: jazz, classical, improv, noise, vocal chorus. His technique is unquestioned and he revels in the physicality of the instrument. Those with an adventurous streak or interest in the outer reaches of the cello universe will find much to savor."
Born in Burlington, Vermont, he began playing the cello at the age of six. In 2001, he graduated with a degree in Jazz Studies from the New England Conservatory of Music, and arrived on New York City jazz scene shortly therafter. Since then, Daniel has developed his own unique voice as a cellist, improviser, and composer. Ed Hazell noted upon release of Levin's first record as a leader, "Cellist Daniel Levin is a major new voice on his instrument and in improvised music." He has performed and/or recorded with Billy Bang, Borah Bergman, Tim Berne, Anthony Braxton, Gerald Cleaver, Andrew Cyrille, Mark Dresser, Ingebrigt Haker Flaten, Tony Malaby, Mat Maneri, Joe Morris, William Parker, Ivo Perelman, Warren Smith, Ken Vandermark, and many others.Daniel is the recipient of a 2010 Jerome Foundation award.
DISCOGRAPHY
As a leader:
Don't Go It Alone: Daniel Levin Quartet (Riti Records)
Some Trees: Daniel Levin Quartet (HatOLOGY)
Fuhuffah: Daniel Levin Trio (Clean Feed)
Blurry: Daniel Levin Quartet (HatOLOGY)
Live at Roulette: Daniel Levin Quartet (Clean Feed)
Bacalhau: Daniel Levin Quartet (Clean Feed)
Organic Modernism: Daniel Levin Quartet (Clean Feed)
Inner Landscape: Daniel Levin Solo (Clean Feed)
Friction: Daniel Levin Quartet (Clean Feed)
Collaborations:
Natural Disorder: Rob Brown / Daniel Levin (Not Two)
Soulstorm: Ivo Perelman / Daniel Levin / Torbjorn Zetterberg (Clean Feed)
The Flower and The Bear: Daniel Levin / Tim Daisy (Relay)
Turbulent Flow: Gianni Mimmo / Daniel Levin (Amirami)
Day in the Life of a City: Rob Brown / Daniel Levin / Jacek Mazerciewicz (Multikulti)
Illusion of Truth: Daniel Levin / Juan Pablo Carletti (OutNow)
Divergent Paths: Rob Brown / Daniel Levin (Cipsela) forthcoming, August 2015
TBA: Mat Maneri / Daniel Levin (Clean Feed) forthcoming, November 2015
Selected Recordings as a Sideman:
Sounds: Rob Brown Trio (Clean Feed)
Live at Firehouse 12: Rob Brown Trio (Not Two)
Planet Dream: Steve Swell / Rob Brown / Daniel Levin (Clean Feed)
The Magic Door: Michael Marcus Ensemble (Not Two)
Red Morocco: Joe Giardullo Open Ensemble (RogueArt)
Towards the Unknown: Yusef Latef / Adam Rudolph (Meta)
Enter the Continent: Masashi Harada Conduction Ensemble (EMANEM)