Marcelo dos Reis / Angélica V. Salvi - Concentric Rinds
Angélica V. Salvi - harp and prepared harp
Marcelo dos Reis - acoustic guitar, prepared guitar and voice
1 - Gravity
2 - Spirals
3 - Convex
4 - Depth
5 - Concave
6 - Spheres
7 - Circles
8 - Surface
Recorded at ARARA Gallery/Warehouse in Porto on 3rd Februrary 2013.
Mixed and Mastered by Marcelo dos Reis.
Design and artwork by KSá.
Photo by Nuno Martins.
Executive production by Cipsela Records.
All Music by Marcelo dos Reis and Angélica V. Salvi.
Cipsela 2015.
SOLD OUT
Limited edition of 300 copies.
[REVIEWS]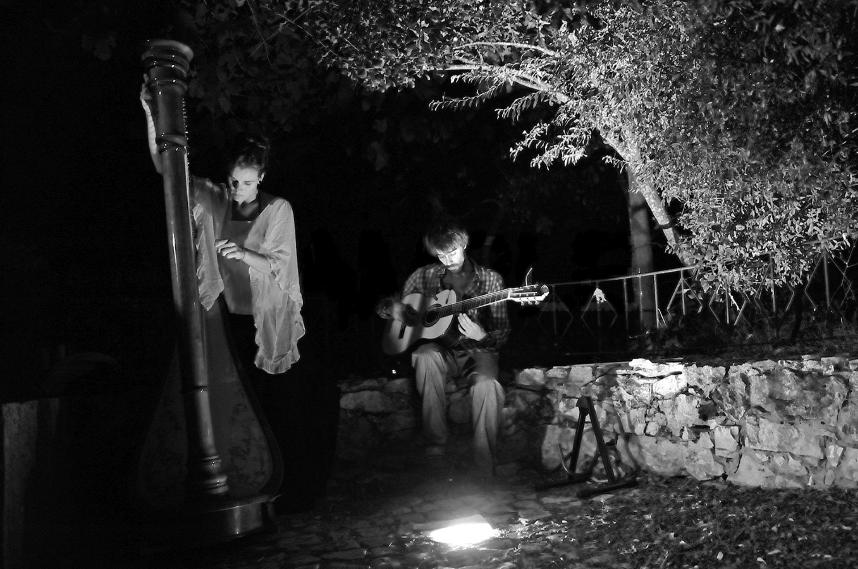 photo by Nuno Martins
"The first time we worked together was in early 2012, when Angélica joined Open Field for a performance at the 2nd anniversary of the "Double Bill" concert series at Sonoscopia in Porto. Later, that summer, we were in the midst of a large ensemble project during the X Jazz Festival in the Schist Villages, when Evan Parker suggested to us that we explore the possibilities of just the guitar/harp duo, removed from the larger group contexts we had been working in. We took his suggestion, and our first duo performance happened later in that very same festival. We were excited about the results, and since then have further developed our duo language, as well as continued to collaborate in larger settings, an example of which is documented on "Pedra Contida - Xisto" (JACC Records, 2014).
All the music presented here is completely improvised, incorporating not only our shared language, but also our diverse range of collective influences and quite different musical backgrounds, as well. This is how we sounded one day in February 2013, in a beautiful warehouse full of reverb. We hope you enjoy it."
Marcelo and Angélica, 2015.