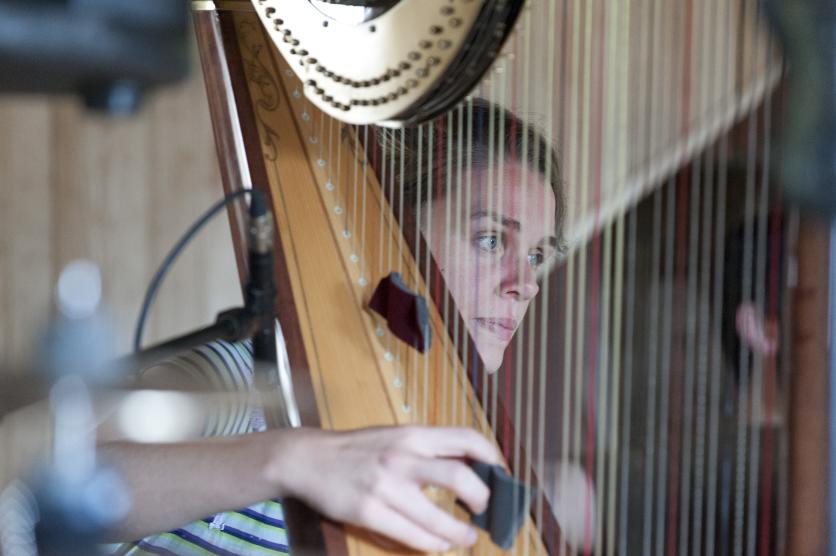 Angélica Vázquez is a harp player from Spain currently based in Oporto, Portugal.
She studied with Maria Rosa Calvo-Manzano (Spain), Carrol McLaughlin (United States) and Ernestine Stoop (Holland). She performs in experimental music, new music and live improvisation.
As a soloist she has performed in US and in Europe, working with composers like Takayuki Rai, Anne La Berge, Richard Barret or Joseph Waters and Improvisers like Butch Morris, Evan Parker, Han Bennink or Michael Moore.
She has performed with symphony orchestras like ¨Filarmonía¨ Symphony Orchestra, Radio Television Symphony Orchestra from Spain, Arizona University Symphony Orchestra, Casa da Música Symphony Orchestra from Porto and contemporary music ensembles like Insomnio, Modelo 62, BrokkenFabriek and Remix.
She holds a Bachelor from the Royal Conservatory of Madrid, a Master on contemporary harp and a ¨NAIP Music Master for New audiences and Innovative Practice¨ from The Royal Conservatory of The Hague.
Currently she is part of Vertixe Sonora Ensemble, FMFX collective, Harpoemacto, Paisajes Invisibles, Pedra Contida, VIVO and works as a harp professor at the Porto Conservatory of Music.